RESEARCH

From the moment of excavation in 1939, the seventh-century burial site Sutton Hoo has been instrumentalised to support ethno-nationalist narratives in England. Old English poetry has been intrinsic to this process. I am currently working on a book and articles drawing upon my thesis research on this topic.

I am also writing an article tracing a 'creative network' of contemporary remakings of the Old English 'Seafarer'poem, examining work by poet Amy Kate Riach, illustrator Jila Peacock, and composer Sally Beamish. Finally, I have started a new project examining creative responses to Sutton Hoo, and the phenomenon of post-war commemorative medieval events, pageants, and community festivals.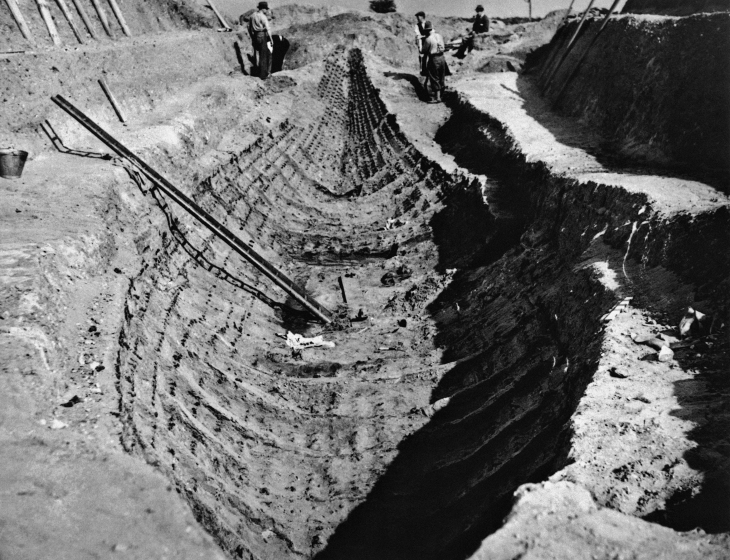 The excavation of Sutton Hoo, Suffolk, 1939.
In 2017, I researched and designed a temporary display at the National Trust site, and facilitated learning activities on site. This included a poetry walk: visitors borrowed mp3 players to listen to ask they explored.
Sutton Hoo today.
Teaching Old English poetry in Primary Schools, forthcoming article with Primary History.
TEACHING AND SKILL SHARING

I teach Medieval Literature at undergraduate and postgraduate level. My specialisms are Old English poetry, medievalism, medieval to modern translation, and multi-media archival research.

I have been an education facilitator at the British Museum since 2015, and contributed to National Lottery Heritage Funded workshops for public and schools audiences.

I run workshops (online and offline) on wikipedia editing, audio recording and editing skills, interviewer and interview skills, and wordpress editing.

Email me if you'd like me to join your project as a teacher, facilitator, resource producer, or to discuss your training needs.
AUDIO / VISUAL PRODUCTION

The Courtauld
Between 2020-2021 I produced the Courtauld Digital Media Blog audio. I have introduced volunteers to basic recording skills, and I produce the final audio. You can find the blog
here
, and you can also listen to
Spotify
.
Footnotes podcast
Interviews with humanities researchers.
Listen here
.
Footnotes podcast, 2015-2017. I produced and hosted interviews with arts and humanities researchers. Listen here.
Mechanics of Memory, pages 28-29. See the digital book here.
ARTIST BOOKS


Mechanics of Memory

Photographs (colour and self-developed black and white 35mm film) and found text. Handmade books, edition of three.

A Gift for the Illuminated Sphere

Gifted on the occassion of Caroline Bergvall's residency at the Whitechapel Gallery, London, UK, 2015. Handmade books, edition of five. Shortlisted for the Ivan Juritz Prize.
A Gift for the Illuminated Sphere, pages 4-5. See the digital book here.
A Gift for the Illuminated Sphere, pages 12-13. See the digital book here.
FILM

True Songs
Conversations with my nonna, and film exploring her photographs and ornaments. Official Selection for the Aesthetica Short Film Festival 2016.
Strandlines
Audio interviews with accompanying visuals for the
Strandlines.london
community website and social media.
---